Cathedral of St. Mary of the Annunciation, Cape Girardeau, MO
Cathedral of St. Mary of the Annunciation, Cape Girardeau, MO. June 30, 2016. (Photos by G. Eckl)
General parish info
Phone: (573) 335-9347 — Fax: (573) 335-0649
Mailing address: 615 William St., Cape Girardeau, MO 63703-6242
Pastor: The Very Rev. Allan L. Saunders, FrSaunders@stmarycathedral.net
Parochial Vicar: Reverend Jesse Hiett, jessehiett@gmail.com
Priest in Residence, Chaplain to CCM/SEMO: Fr. Laurent Okitakatshi
Pastoral Ministry and RCIA: Jim Keusenkothen
Director of Religious Education: Brenda Kuhn
Family Life Ministry Coordinator: Lisa Simmons
Administrative Assistant: Stephanie Weidenbenner
Administrative Assistant/RCIA: Donna McLain
Email: smparish@stmarycathedral.net  Website: www.stmarycathedral.net
Also attends to Old St. Vincent Chapel of Ease, Cape Girardeau, MO
St. Mary Cathedral School
210 S Sprigg St., Cape Girardeau, MO 63703-6241
Principal: Alan Bruns, alanbruns@stmarycape.org
Phone: (573) 335-3840 — Fax: (573) 335-4142
Web site: https://stmarycathedralschool.weebly.com/
History
St. Mary of the Annunciation was founded to serve the German Catholics in Cape Girardeau. Prior to its founding, German immigrants attended Mass in St. Vincent de Paul Church. However, they longed for their own parish with a priest who could speak to them in their mother tongue.
Following a failed attempt to establish a German speaking parish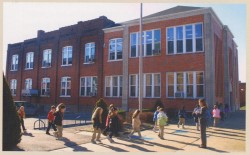 in Dutchtown, Fr. Aloysius J. Meyer, CM, also of German descent, began working with the community and eventually gained permission from Bishop Peter Kenrick of the St. Louis Archdiocese to begin the building process. Land was purchased at the southwest corner of Ellis and Themis streets for $500, but construction was interrupted by the Civil War.
Finally in 1868, a lot was purchased at the corner of Sprigg and William Streets and the groundbreaking took place on March 25, the Feast of the Annunciation. The first resident pastor arrived in August 1868. Working side by side with members of the parish, Fr. Julius Herde saw to the completion of the church.
From its inception, the parish family insisted upon a solid, Catholic education for its children. Classes were conducted initially by lay teachers. That changed in 1875 when the Sisters of St. Francis, who were in charge of St. Francis Hospital, staffed the school. They remained 28 years. Then, from 1903 until 1993, the School Sisters of Notre Dame had charge of the school. Today, lay teachers again staff the school.
Parish related
For current parish Mass times and other activities and events click HERE. Or, call the parish office.
GPS coordinates: N37° 18.023', W089° 31.6' (click here for map)
St. Mary Cathedral School210 S Sprigg St., Cape Girardeau, MO 63703-6241
Principal:  Alan Bruns, alanbruns@stmarycape.org
Phone: (573) 335-3840 — Fax: (573) 335-4142 Web site: https://stmarycathedralschool.weebly.com/