Holy Trinity Parish, Marshfield, MO
Holy Trinity Church, Marshfield, MO
Phone: (417) 859-2228
Mailing address: Holy Trinity Church, 515 E Washington St., Marshfield, MO 65706-1865
Pastor: Fr. Francis Theetla, frajvr@gmail.com
Deacons: Deacon James Soptick & Deacon Michael Fritz
Administrative Assistant/Bookkeeper: Linda Wullner
CRE: Laura Vinehout
Parish Manager: Bob Schultheis
Email: holytrinitymarshfield@gmail.com
Website: marshfieldcatholic.org
For current parish Mass times and other activities and events click HERE. Or, call the phone number above.
History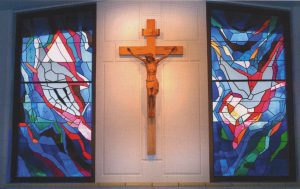 As the Frisco Railroad Line brought more and more settlers into southwestern Missouri and Catholics were scattered throughout Webster and neighboring counties, priests from Springfield would periodically celebrate Mass in the homes of these pioneers.
During the early 1890s, the Marshfield community celebrated Mass in the upstairs room of a building on the public square. In the spring of 1892, Fr. Curran, who was serving as administrator of Immaculate Conception Parish in Springfield, appointed a committee of Marshfield parishioners to raise funds for the building of a church. Parishioners hauled rocks from their farms to lay the foundation. The church building was a wooden frame structure, later covered and finished in stucco.
Holy Trinity, now a mission church, was placed under the care of the Benedictine Fathers of St. Joseph Parish in Springfield. It remained a mission church until 1908 when Fr. Thomas Ryan was appointed as first resident pastor.
Plans for construction of the present Holy Trinity Church began shortly after the parish became part of the Springfield-Cape Girardeau Diocese formed in 1956. Construction of a new church began in the early spring of 1959. It was dedicated June 12, 1960 by Bishop Charles Helmsing.