Old St. Vincent Chapel of Ease, Cape Girardeau, MO
Historic Old St. Vincent Chapel of Ease, Cape Girardeau, MO. (Photos by G. Eckl)
History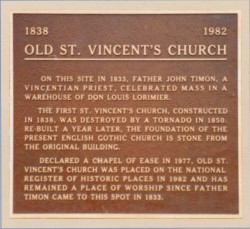 This placard at the Old S. Vincent's Church reads:
On this site in 1833, Fr. John Timon, a Vincentian priest, celebrated Mass in a warehouse of Don Louis Lorimier.
The first St. Vincent's Church, constructed in 1838 was destroyed by a tornado in 1850. Rebuilt a year later, the foundation of the present English Gothic church is stone from the original building.
Declared a Chapel of Ease in 1977, Old St. Vincent's Church was placed on the National Register of Historic Places in 1982 and has remained a place of worship since Fr. Timon came to this spot in 1833.
For a comprehensive history go to www.oldstvincents.org.
Parish related
For current parish Mass times and other activities and events click HERE. Or, call the phone number listed.
GPS coordinates: N37° 18.034', W089° 31.168' (click here for map)
Physical address: Main & William Sts, Cape Girardeau, MO