Our Lady of Sorrows Mission, Lesterville, MO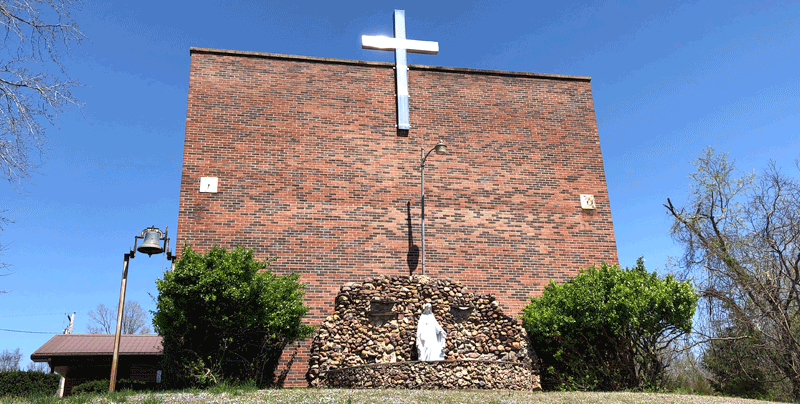 Our Lady of Sorrows Mission Church, Lesterville, MO. (Photos by G. Eckl)
Phone: (573) 637-2444
Mailing address: Ste. Marie du Lac Church, 350 S Main St., Ironton, MO 63650-1407
Pastor: Fr. Emmanuel Konyeaso, dacypha2003@yahoo.com 
RCIA Director: Tony & Pam Aiello
Also attends St. Marie du Lac Parish, Ironton, MO
History
*Catholics who like to complain about their financial duty to support the Church might take a long look at the parishioners of Reynolds County.
Groundbreaking ceremonies were held for the first Catholic church to be erected in the county on Sun., Dec. 12, 1954. Two priests and six laymen were present for the occasion, at a site one block west of the Lesterville town limits on Highway 21. As the Fr. Charles P. Lyons, OSM, administrator of the Ironton-Arcadia area, blessed the land and turned over the first shovelful of earth, the little group rejoiced. There were eager to provide a place for the Holy Sacrifice more appropriate than the room they had used in a nearby lodge for the past two years.
Each of the laymen present knew that the financial burden of building the new church might be heavy, for Reynolds County—with a population of 6,917—has only 11 practicing Catholics.
* "11 Catholics shoulder burden of paying for Reynolds Co. church." News clipping from an unknown publication with a hand noted date of 12/24/54.
Our Lady of Sorrows is still served from Ste. Marie du Lac Parish in Ironton, MO.
Parish related
All schedules subject to change. Please call parish offices above to verify.
Weekend Mass times
Saturday
4 p.m. Vigil Mass
Holy Days
4 p.m. Vigil of Holy Day Mass
GPS coordinates: N37° 27.372', W090° 51.225' (click here for map)
Physical address: 33733 State Highway 21, Lesterville, MO 63654