Sacred Heart Mission Church, Thayer, MO
Sacred Heart Church, Thayer, MO. (Photos by G. Eckl)
History
A visiting priest celebrated the first Mass in Thayer in 1885. In the early days Catholics gathered for Mass in a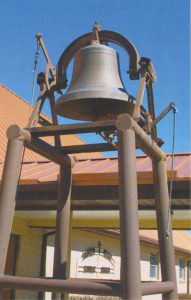 hotel room and later in the homes of various parishioners whenever a priest was available. The home of the Harvey Boughnou family was one of the first.
On May 29, 1893, a lot on South 6th Street was donated for a church building. Fr. John Waelterman, pastor of St. Joseph in White Church, supervised the project. In 1903, the church building was moved to the corner of 5th and Walnut Streets. A bell tower, bell, and vestibule were added. This church was the parish's home for more than 50 years. In 1958, the parish received a donation of 9.7 acres of land from the Owen Best family. The current church on Best Circle Drive was built under the direction of Fr. Sylvester Bauer.
Parish related
Weekend Mass times
Sunday
10 a.m.
Daily Mass Times
Wednesday
10 a.m.
Friday
10 a.m., first Fridays only
Holy Days
10 a.m.
Confession
Sunday
9:30 a.m., or by appointment
Office hours
Sunday
9:30 – 9:50 a.m., or call El Dorado Springs rectory at (417) 876-3216.
GPS coordinates: N37° 42.008', W093° 47.153' (click here for map)
Physical address: St. Peter, Apostle Mission Church, 222 N Hwy J, Stockton, MO