St. Peter, Apostle Mission Church, Stockton, MO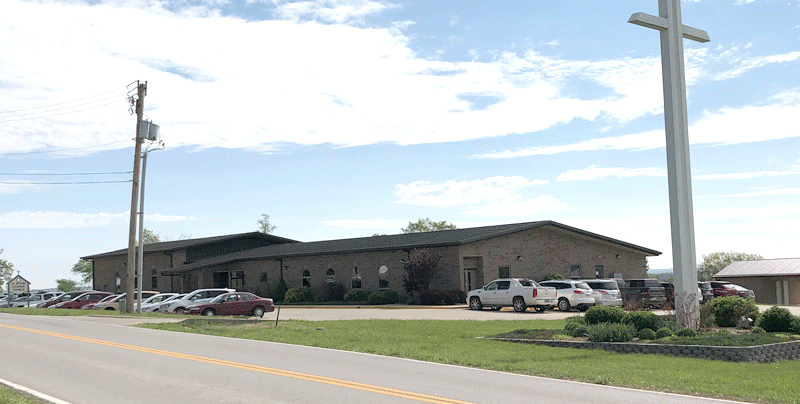 St. Peter, Apostle Mission Church, Stockton, MO. (Photos by G. Eckl)
Phone: (417) 276-5588 Mailing address: St. Peter, Apostle Mission Church, PO Box 583, Stockton, MO 65785-0583
Pastor: Rev. Tuan Van Nguyen, CRM, tuanbao1807@gmail.com
Attended from St. Elizabeth of Hungary Parish, El Dorado Springs, MO
History
The building of the Stockton Dam in 1969 turned the small Missouri town of Stockton into a tourist area. Fr. Bill Krudwig, pastor of St. Elizabeth in EI Dorado Springs and the mission church of St. Catherine in Humansville saw the eventual need for a Catholic church in Stockton. The development around Stockton Lake would draw vacationers and retired people.
The first building was purchased from the Stockton Christian Church after they moved to a new facility. Soon a larger building was needed. This time the Assembly of God building was vacant and available for purchase. This building served the parish well, but continued growth indicated the need for construction of a new parish facility. Construction began in July of 2002. However, the church was severely damaged by a tornado on May 4, 2003, which also destroyed the center of the town of Stockton. The church was repaired and dedicated on Oct. 5, 2003. St. Peter the Apostle Mission Church is attended from St. Elizabeth Parish, EI Dorado Springs.
Parish related
Weekend Mass times
Sunday
10 a.m.
Daily Mass Times
Wednesday
10 a.m.
Friday
10 a.m., first Fridays only
Holy Days
10 a.m.
Confession
Sunday
9:30 a.m., or by appointment
Office hours
Sunday
9:30 – 9:50 a.m., or call El Dorado Springs rectory at (417) 876-3216.
GPS coordinates: N37° 42.008', W093° 47.153' (click here for map)
Physical address: St. Peter, Apostle Mission Church, 222 N Hwy J, Stockton, MO