Nativity of Our Lord Mission Church, Noel, MO
Nativity of Our Lord Mission Church, Noel, MO. (Photos by G. Eckl)
History
Mass was celebrated in private homes as early as 1920 in this southwest corner of southern Missouri. In 1948,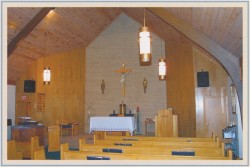 Bishop Edwin O'Hara of Kansas City appointed an Oblate priest, Fr. Stephen Wessel, OMI, as pastor of McDonald County. The intention was eventually to establish a mission church in the resort town of Noel. With financial assistance from the Catholic Extension Society, an old Baptist church was purchased and named Sacred Heart Church.
In 1953 a new church was constructed and the name changed to Nativity of Our Lord Catholic Church. Membership included 18 Catholic households.
On Aug. 3, 1969, the church building was destroyed when a railroad car on the Kansas City Southern tracks carrying burning ammonium nitrate exploded immediately behind the church. Parishioners were invited to use St. Nicholas Episcopal Church for the celebration of Mass until the church was rebuilt and dedicated on Jan. 30, 1972.
Since that time, the mission church has experienced additions in both the number in the Catholic community and in the church building. Outreach to the increasing numbers of Hispanics in the area caused more space to be needed for classrooms and a parish hall. The enlarged church was completed in February 1998. The Catholic community is attended by the pastor from Neosho.
Parish related
Weekend Mass times
Sunday
10:30 a.m.
1 p.m. Spanish
Daily Mass Times
Tuesday
6:30 p.m.
Confession
By appointment
Baptisms
Every third Sunday of the month
Office hours
Tuesday
10 a.m. – 12-noon & 1 – 6 p.m.
Wednesday – Friday
10 a.m. – 2 p.m. & 3 – 5 p.m.
Saturday
10 a.m. – 1 p.m.
GPS coordinates: N36° 32.513', W094° 29.133' (click here for map)